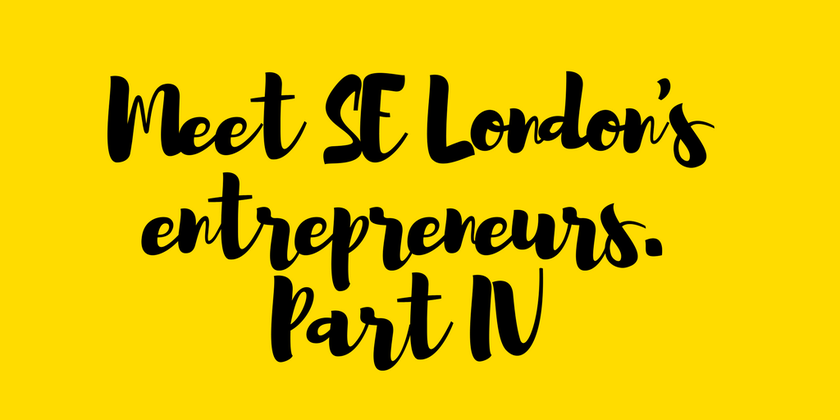 Some of you might know that I am currently writing a blog series about all the fab entrepreneurs we have in SE London. Why? Because I want to support all the brave, hardworking, flying by the seat of their pants people who are willing to take the road less travelled in pursuit of their dream. And also because they have chosen SE London as their home.
But, before you carry on reading about this next entrepreneur, let me be 100% transparent:
I am Brazilian, born and bred. I came to the UK in my teens, and was brought up on the food that Andre (also Brazillian) sells, so you won't be surprised to hear that I have been a customer of his for a few years now.
What might surprise you is the fact that I had been eating his food before I let on that I too, was Brazilian.
Andre will have been unaware of this until now, so I best explain myself sharpish: I did it to be kind. After almost 30 years in the UK, I had eaten enough crap Brazilian food to know it's not easy to do well. So I didn't want to befriend him and then offend him, in case I didn't like his food.
But I neededn't have worried. Andre's food is the real deal. Delicious, original and fresh.
Like all the local entrepreneurs I've met, he works relentlessly, setting up every week in Northcross road as well as other local food markets. I have seen him under torrential rain and freezing snow (no small feat for a Brazilian — we like to feel warm!), and he always has a smile on his face and really good music in his stand.
He has helped introduce my kids to some fab Brazillian cuzine making part of my heritage accessible to them, so yes I am biased — but for all the right reasons.
Anyway, that's enough about me! It's time I introduced you to…
Agua na Boca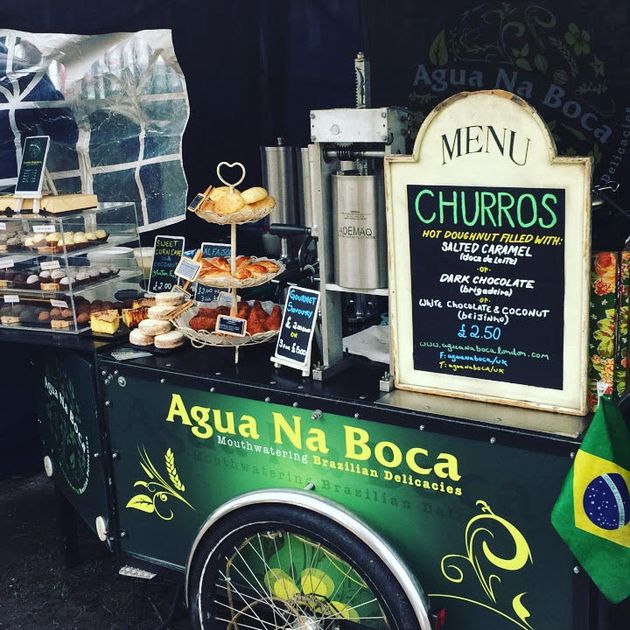 For those who don't know, what is Agua na Boca and who is it for?
I always had a passion for food. After working in the Hospitality Business in London for the past 16 years, I decided to look at ways to bring some of Brazil's most popular food to the streets of London.
And here it is… a food stall with a difference! Agua Na Boca in English means "MOUTHWATERING" and the word says it all. We sell Brazillian delicacies such as Salgadinhos (pastry savouries), Gourmet Brigadeiros (chocolate truffles) and Churros ( delicious doughnuts filled with chocolate or salted caramel).
We also provide catering services for parties and you can hire our food stall to make Churros at your party.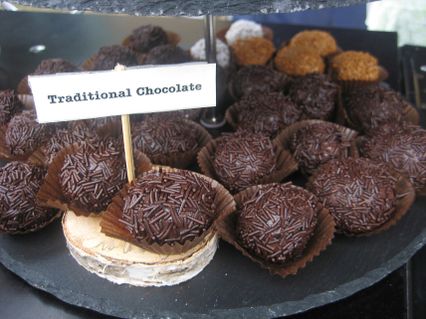 What do you love most about the business?
To be able to interact with people from all ages and to be mobile!  In the past 4 years we moved quite a lot across different parts of London. We are located in SE London and we attend local markets such as North Cross Rd, West Norwood Feast and Herne Hill Market but everytime we have an opportunity to go to a special event, we do so too.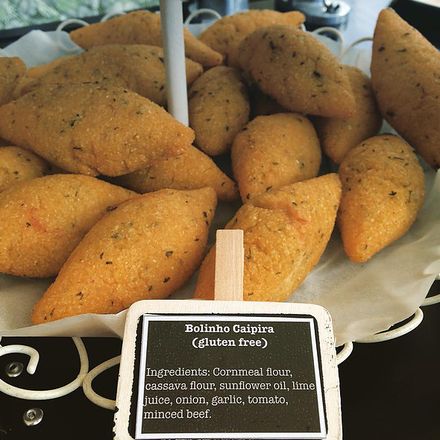 What's next for 2018?
We are always trying new recipes, specially Vegan versions of our savouries to be able to offer our products to everyone. This year we are also trying to attend new markets in different areas of London such as the Victoria Park Market and the Oval Farmers Market.
Favourite things to do/places to go in South East London?
---
If you never tried Brazilian food, then please go and find Agua na Boca. Andre is usually at Northcross Road every Saturday as well as Herne Hill market and a few others in London.
Best to follow him on Instagram as he is very good at keeping his customers informed of his whereabouts.
If you have a sweet tooth, go for the brigadeiros or the churros, but if savoury is more your thing, then try the pao the queijo (best warm) or the coxinha de galinha — our favourite.
There are veggie and glutten free options too — just go and ask him, because apart from the great food, he is a lovely guy.
---
Meet (some of) SE London's Entreupreneurs is all about celebrating and promoting the small businesses in the area. If you know of a small business I should be talking to, then feel free get in touch. For now, check out the other great businesses featured.
Meet (some of) SE London's Entrepreneurs Part 2
Meet (some of) SE London's Entrepreneurs Part 3