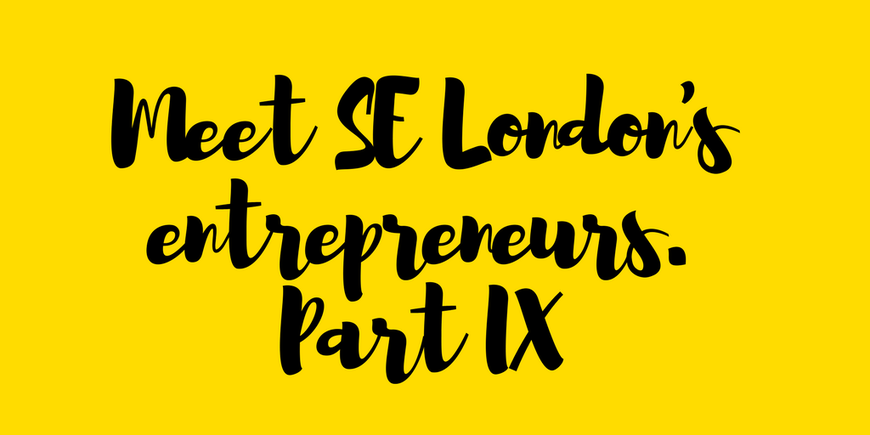 If you've been following my blog series then you already know what it's all about. But if this is your first time, let me give you a heads up: I write about all things SE London.
Recently, I have been doing a series solely dedicated to local entrepreneurs, giving them a platform where they can tell their story. The purpose of writing this series is simple — I want to support them. To help shed a little extra light on what they do, with the hope that I might inspire you to find out more.
I came across UbieDesign (art classes) whilst I was looking for things to do with the kids during February half term. The weather was miserable, outdoor activities were out, and I was desperate to try something new. And then Suzanne James tweeted about them. Suzanne is also a big supporter of local brands, and has taken some very cool people (and businesses) under her wing — I have a huge amount of respect for her judgement, so they had my attention.
I got in touch to find out a little more and got chatting to Matt (half of the Ubie team) who told me all about their new business the way entrepreneurs often do — full of excitement about their plans, positivity for what the future might hold, and eagerness to learn and grow.
So I booked two slots and took the kids for a class, and they really enjoyed themselves. I particularly liked how attentive Ubie was, and how complimentary they both were of the children's skills. They took the time to talk to each child about their work, finding a positive thing to say about individual efforts. This level of attention added to the pride and sence of achievement the kids had — and it made all the difference.
But their art classes are not just for kids. They have a range of courses and events for adults too. So let me get on with it, and to introduce you to…
Ubie Design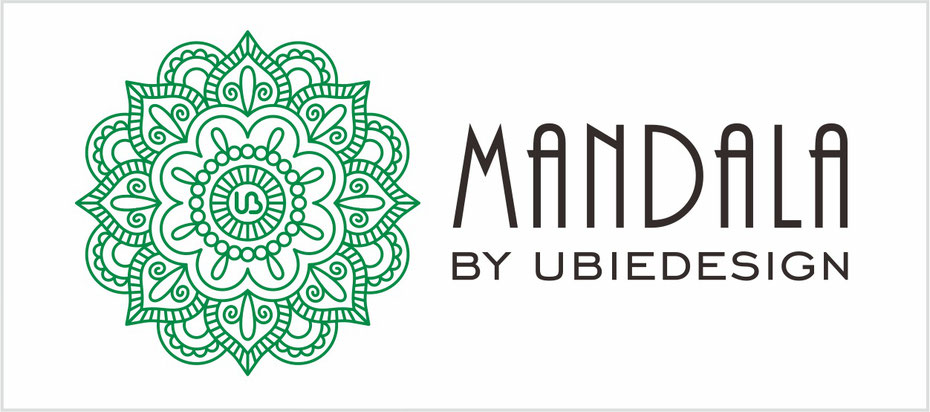 For those who don't know, what is UbieDesign?
UbieDesign is a small Dulwich based business running art classes in South East London. We will also be launching our handmade products brand, Ananta later in 2018.
Our business is pretty micro and new at this stage having launched in 2017 and run by husband and wife, Matt and Ubie.
The business is named after Ubie Chan. Ubie is the creative inspiration for all our courses and products. Ubie is an experienced graphic designer and comes from Hong Kong where she ran a very successful art studio for many years teaching both adults and kids all things creative. Ubie moved to the UK in in 2017 having got married to Matt.
UbieDesign runs regular art classes across some fab venues in Crystal Palace, East Dulwich and Beckenham(with more venues to come later in the year). Our first courses have used the Mandala theme and have been really popular for those learning to draw and paint their own great designs. Our students have also really enjoyed the benefits of the calm and sense of achievement brought about from being creative and finding a small oasis from everyday busy-ness.
We also run a variety of 'pop up' kids art classes in the school holidays and had great success running some classes in the February Half Term holiday.
Who is it for what are the classes like?
Ubie's mantra is 'Anyone Can Draw'. And it's true! The work produced by our students has been fabulous, many of whom had no confidence in their artistic ability but wanted to try something different and creative. The Mandala and Zentangle themes are really perfect for teaching as the structured approach allows for either simple or complex pieces to be put together in a relatively short period of time for all skills levels.
Our Adults courses are typically around 2.5 hours so they provide a really nice morning or afternoon session where you finish a piece in that time and really feel like you've learned some new skills and finished a piece of work. Class sizes are small — no more than 12 so you will get plenty of 1–2–1 time with Ubie. We do also offer 'full day courses' where you do drawing in the morning and painting in the afternoon — a great day out!
We have had children 8-up attend too. The class vibe is fun but grown up, but provided they are old enough to concentrate and accompanied by a guardian we love having children join on our courses and those who have come love them!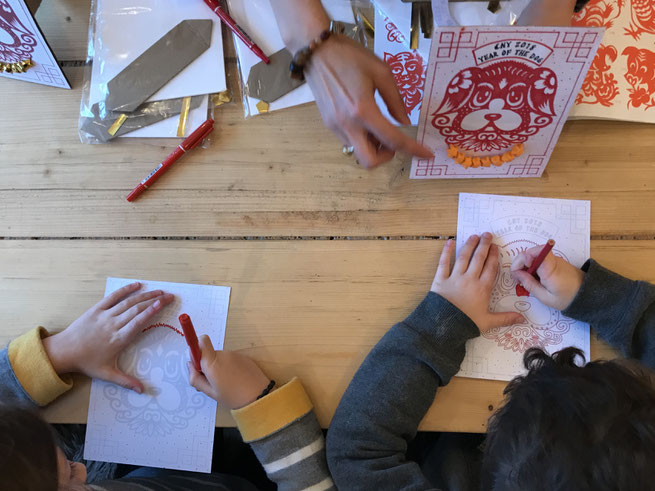 What about your kids' school holiday courses?
These classes are usually around 90 minutes long, high quality and good value. Kids will really learn some new skills and are kept busy so they don't get bored. Great for concentration! Our most recent courses did 'mini Mandala' drawings and also celebrated Chinese New Year creating a Year of the Dog painting adorned with handmade origami Chinese lucky stars!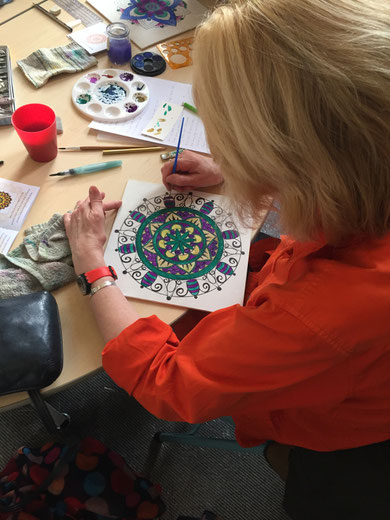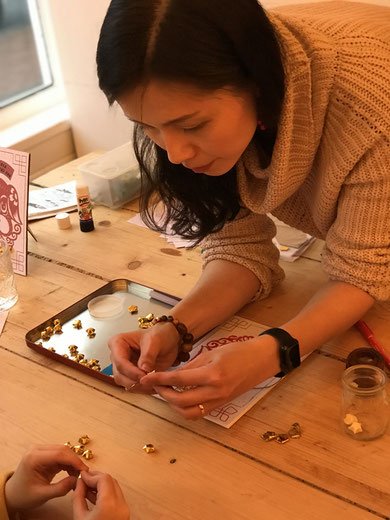 What do you love most about the business?
It's wonderful to see how students get a fantastic sense of achievement from creating something for themselves and take away skills and inspiration to keep working at home!! Our students also regularly comment how relaxed and centred they feel after a couple of hours of creativity.
What's next for 2018?
Well, we are continuing with our Mandala courses and have some dates lined up at a number of venues. We are also planning a brilliant new Zentangle class for kids in the Easter holidays. We expect to bring out an Adults Zentangle workshop and work more with Art and Mindfulness connectivity later in 2018. We will de at the Ideal Home Show exhibition running some demo classes too. Oh, and launching Ananta also! It's going to be busy!!
Favourite things to do/places to go in South East London?