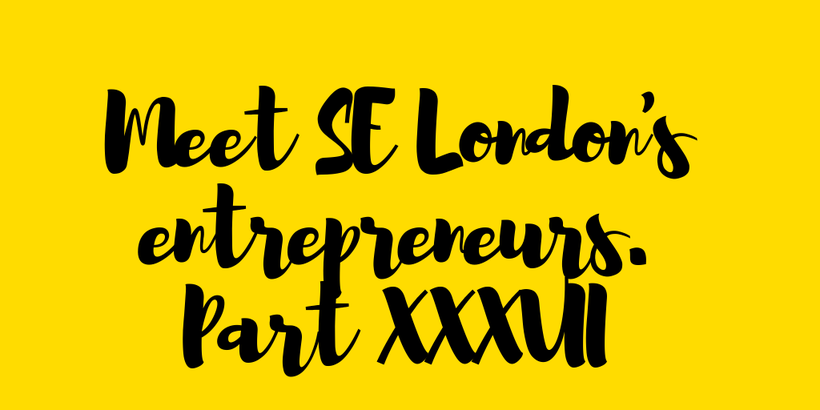 You know when you meet someone, and you know you are going to like them? And you don't begrudge the fact that you haven't had a proper conversation yet or shared a meaningful story, because deep down it doesn't matter — you already like them. Just like you knew you would.
That's what it was like with Amy.
I am not big on exercise, and though I am a long-time committed runner, I always relied on it more for my mental wellbeing than my physical health. But after I turned 45, running stopped making as much of an impact on my body, and I felt frustrated that so much effort was bringing small results. I knew I needed to up my exercise to see real change again, and that is when I came across Amy's classes.
Amy is a bit of an exercise nut — in the sense she really, really loves it. I, on the other hand, hate exercise, but have made peace with the fact that I need it and let's face it, it does make me feel good. So I took the plunge and joined a class. Packed full of women and great tunes, Amy's classes have a real friendly vibe. We are all in it together, grunting and sweating through high impact exercises, hoping (in my case at least) that our pelvic floors will hold. I have spotted many a familiar face beside me and am now proud to count myself as one of her regulars.
Though her classes are not for the faint hearted (again, my opinion), she is resolute in her support, and her enthusiasm is often contagious. She knows when to push and when to leave you alone, and there is no pressure for you to keep up with everyone else's pace, but rather find your own. As long as you keep moving Amy is rooting for you.
So it's no surprise she knows all our names, and often calls them out in class — a little pick me up when we need it most. In between all the sweat, effort and pain I can't help but smile when I hear her shout 'YES MARCELA' across the room, and I suppose that's the point.
Thanks Amy. See you at the next class.
Amy Lamont Fitness
Tell us a bit about Amy Lamont Fitness. How did it start?
After my second son was born, I decided I wanted to work for myself. I was really into running and decided to retrain as a Personal Trainer.  It took me two years to gain my qualification studying part time and looking after my young family.
I began working at Push Studios on Blackwater Street and Kevin who runs the studio convinced me to try teaching some small group classes. I enjoyed this and so added to my qualifications with a number of other certificates in different group exercise classes. Although I do still do a small amount of personal training, Amy Lamont Fitness is primarily about accessible and fun group exercise classes.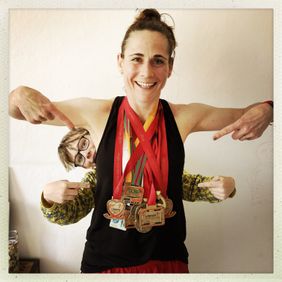 What do you love most about the business?
I love waving people off with a fabulous post class glow. I love meeting people and watching them grow in fitness and in confidence. I love working for myself, locally in the community that I live in.
What is the biggest lesson you have learned since starting?
That there is no one definition of 'Fitness'. I meet runners who regularly run marathons but who then struggle in a Kettlebell class or who can't balance on one leg.
I see people who don't conform to the conventional definitions of looking 'fit' who are really flexible or who can lift really heavy weights. I have learned that you cannot judge a book by its cover in any sense of the word. Everyone has weaknesses or areas that can be improved. I find that people who are slightly lacking in confidence tend to work harder and apply themselves better than people who are already confident in their abilities.
What would you have done differently?
This is a difficult question!
There are many paths I could have taken working in the fitness industry. I have found my way according to the opportunities that have arisen through luck and timing. I am lucky to be in a position where I can continue to train and grow alongside the work that I do. I have recently started a sports psychology course in Food Addiction which I'm hoping will help compliment the work I currently do and my interest in addictive behaviours.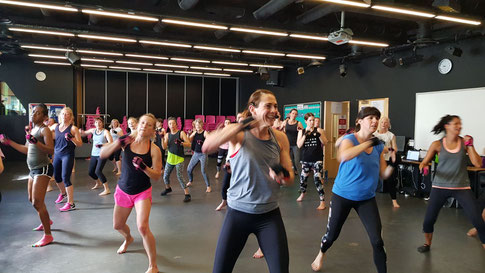 Best advice you were given?
To start inwards and work down from there. This means prioritising your own health and wellbeing. I believe that you can't successfully work and look after others if you are not well yourself.
It sounds like a cliché but it is absolutely true. For me that means taking time out from work to do the things I enjoy and that make me feel good physically and emotionally.
Has motherhood changed you as an entrepreneur?
Motherhood caused me to be an entrepreneur! I needed flexibility, work / life balance and to be my own boss.
How do you switch off?
I love a good book. I'm currently reading 'A Little Life' by Hanya Yanagihara which is devastatingly sad but I can't put it down. I use social media to promote my businesses but if I need to properly switch off, then I have to stop looking at Instagram and Facebook.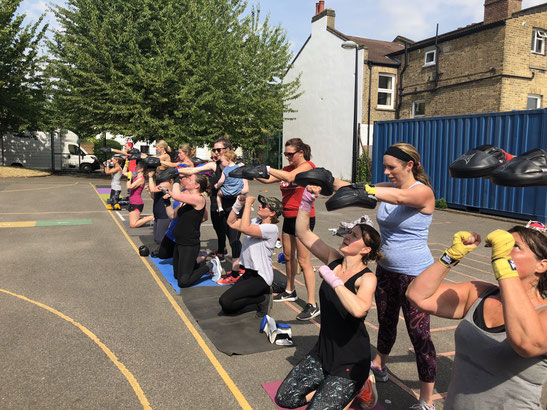 What's next?
I want to continue teaching a range of classes locally and am also focussing on my other 'baby' The Strength Sanctuary. This is a business I started with two good friends in 2014. We run fitness retreats for women which combine fun fitness with yoga, delicious food and luxury accommodation.

Favourite things to do/places to go in South East London?
I love Nunhead Cemetery for a dog walk or a run. It is absolutely beautiful and very peaceful. Malby Street Market in Bermondsey is a slightly smaller and less hectic artisan food market than Borough Market. It is full of delicious food and drink and worth a visit.
I recently took my teenager to the Clink Museum on Bankside and we had a brilliant hour reading about and handling torture devices from one of the oldest prisons in England.
---
Amy runs a Monday Fit Club, Kettlercise and Piloxing classes. She also runs personal training sessions. You can follow Amy on Facebook , Instagram or Twitter.
---