As soon as I stumbled across Laura's work on Instagram, I knew it was love at first sight.
And I don't just mean her art. I was also struck by the way she brought others towards her work —  through regular feedback invitations as well as her live Instagram feeds covering everything from her technique and creative process, to favourite tools and inspiration. She was not just open to talk about her art with others —  she was also open to listen.
Laura is incredibly generous with her work and has run several competitions where lucky winners get to choose a piece of her art (I even won one!), and recently has teamed up with another local great — Mocking bird makes — to talk about the benefits creativity can have on mental health.
I love that she is also big on community, and has become an avid supporter of other local businesses, artists, makers and entrepreneurs often shouting out about each and every one of them — including me — whenever she can. 
Laura is young, talented, community focused, honest and incredibly welcoming. Reading her answers, it struck me how much her passion comes across, and how focused she is when it comes to her art.
She is a gem of a girl, and if you haven't come across her or her work yet, then keep an eye out for her next exhibitions at Two Spoons Café (from 26rth Nov) and Jeannie Avent Gallery next year.
SE London is lucky to have her.
Laura Hepworth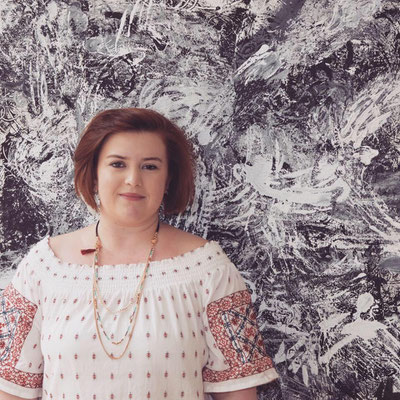 Tell us a bit about what you do and why you do it.
I create black and white abstract paintings and installations. Through which, identifies with the complexities of the everyday by the representations created through process. For me, the process of the artwork communicates the reasoning and resolve founded within the everyday. The definition of the mark making has become a psychology, an act of release and reflections. A way of keeping myself grounded, to better myself daily and keep my own mental health in check through the complexities of the everyday.
What inspires you?
When reflecting upon the inspiration behind the artwork, it always brings me back to concepts of living, in relation to private and public settings — how the perceptions of the everyday are carried through all forms of creativity. Transforming words into a physical substance, something we are able to see, touch and hear. Something our senses come connect to. 
In other words, energy presented throughout our lives whether that be energy that's considered to be 'conscious' or 'unconscious'. What inspires me most of all, are the ways people go on through life with a passion and remain resilient to their practices by channelling their own 'private' energy with others in a much more public setting, creating a huge connective network of energy that builds upon the idealism of community spirit.
What do you love most about it?
The connections people make and discover within my paintings provoke a shared experience that explores new ways of seeing the world around us through my eyes. In result of that, the story telling of each piece is paramount, as it is a moment in which the process and energy of the paintings become fully exposed to the presence of energy that is channelled by our surroundings and the people present in the moment of visualisation.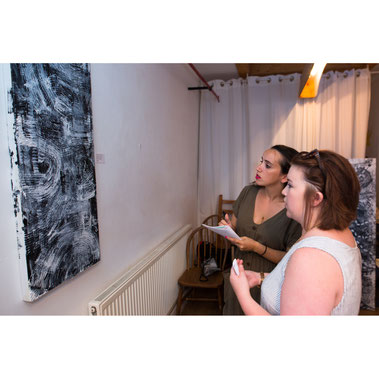 How has the work you do in schools influenced your art?
For the past few years, working as a full time teaching assistant and artist in residence in primary education has enhanced my practice in many ways. 

Most specifically, in the way my work can be communicated to all generations. 
With that in mind, I always look for new and innovative processes of building interactions through the modelling of ELKLAN Speech & Language. In order to enhance the language so that it's better suited to the person's needs. Allowing a greater point of access and response to the art work through written and visual reflections. As well as explore ways these processes can be integrated into the interactions and connections I make during the events that I host, in contrast with the representation of my practice through social media platforms, such as Instagram.
What has been your biggest learning since starting?
Every moment is a new moment, it has never happened before and it will never happen again. Which means trying to live each day as it's own separate day instead of overly expecting, assuming a specific outcome.
How do you see it evolving? What's next?
Currently, my work is branching out into colour. Very slowly, I've been able to identify an area of focus which drives me away for the monochrome. In result of this, my working pace for creating new commissions have become a more reflective process.
During the summer, I launched the start of my next line of enquiry, 'Transfers' which explores the idealism of journey within the perception of the energy felt and experienced through my travels in Cornwall and around my home in London.
Most of the pieces made so far have been drawn out on location and will be developed into a large installation of drawings for my next exhibition, at Two Spoons starting Monday 26th November 2018 until the end of January 2019 at Two Spoons in Honor Oak Park, London. With a range of exciting events to choose from, such as Arts & Craft Workshops and Artist Talks that will take place throughout the duration of the exhibit and festive season.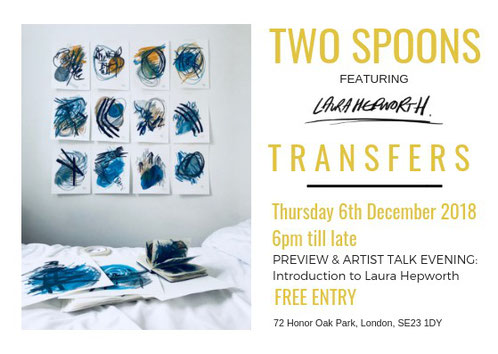 Including my current collaboration with Shannon Reed, also known as Mockingbird Makes. Where we'll be covering the topic of Creative Innovation & Mental Health, during which we'll be telling our stories, creating connections and awareness for the endless ways creativity benefits our lives in some shape or form.
Works from myself and Shannon will be available to buy throughout the duration of the exhibition. And 10% from each sale will be donated to our chosen charity Place2Be, the leading children's charity for mental health.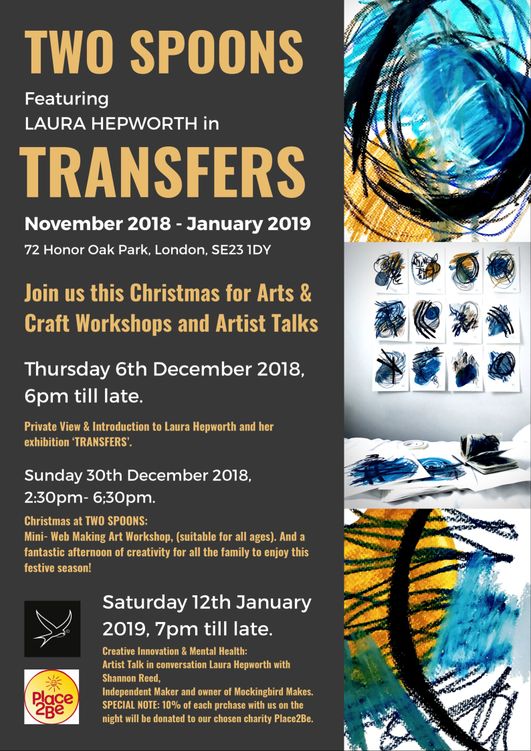 Looking further on into the new year, these events will be followed by another exhibition featuring the paintings from my current collection 'Transfers' in a second instalment, alongside large canvas works. 'Transfers' will take place at the Jeannie Avent Gallery in North Cross Road, East Dulwich, from Wednesday 31st July-Wednesday 14th August 2019.
Behind the scenes, I am in the process of developing my largest commission to date. And will be looking towards getting myself involved in the next Nunhead Art Trail and Dulwich Open House for 2019.
Favourite things to do/places to go in South East London?
Two Spoons in Honor Oak Park and a few other local spots, like the endless selection of independent businesses that line up and down Lordship Lane, such as: Kanella & Co and Pearspring. I spend many a weekend enjoying a well deserved cup of coffee, exploring the wonderful market stalls along North Cross Road on a Saturday morning, which is where I fell in love with the space and location of the Jeannie Avent Gallery.